Abian Boga Restaurant, Guest House & Villa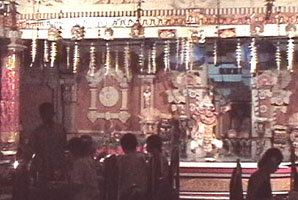 Located in the near of lovely Sanur beach hotels , next to the famous Sanur beach hotel and Bali Hyatt hotel. It is only 15 minutes from Ngurah Rai airport, it is surrounded by beautiful tropical garden, 20 minutes drive to the capital city of Denpasar and 3 minutes walk to the beautiful white sand beach.
In the evening, you can come and dine with us in our traditional Balinese restaurant and be entertained by our Balinese dancer or dine outside in our open air café.
OUR ROOMS
Deluxe Abian Boga
Our Deluxe room offer a king size with air-conditioning full of Balinese architecture, living room with refrigerator, color television and are fitted with a set of elegance classic wooden furniture included private bathtub with running hot and cold water, shower.
Villa Two Bed
Our Villa are included two and three bed with air conditioning set base on modern style villa, surrounded with tropical garden, clean and nice terrace with private pool. And others facilities anytime you can use like refrigerator, color television and private bathroom with bathtub running hot or cold water and shower.