Pita Maha Resort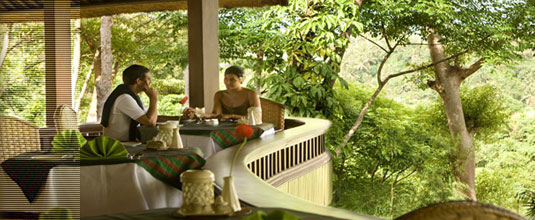 With spectacular views and precisely appointed private villas, The Pita Maha resort & Spa is true haven of relaxation
Set into the side of the Tjampuhan valley in Bali's cultural heartland of Ubud, the Pita Maha Resort and Spa is a landscaped jewel overlooking the beautiful River Oos. From the lobby and restaurant are, the natural beauty the Ubud foothills is immediately apparent. Sweeping views of lush rice terraces and tropical woodland draw the valley to the sea, where the airport is just 45 minutes by road from this mountain retreat.
The Lounge Lobby, a meeting place of peace and beauty
On your arrival, our professional and friendly Balinese staff will greet you with a traditional welcome drink, the Brem Barong, in our splended and spacious Lobby Lounge. It has a sensational view across thevalley to the distant and verdant rice-field.
In-House Facilities
Pita Maha Grand Swimming Pool & Bar.
Terrace Restaurant & Bar serving Breakfast, Lunch (Balinese and Western cuisine), Dinner & Supper (International Cuisine).
Villa service – 24 hours
Cassette and CD – Available from Guest Service Centre.
Book Library – Available from Guest Service Centre.
Personal Safe Deposit Box in every Villa.
Outside Activities
Easy and privilege access and guide to :
The Palace of Ubud Princes
The Ubud Market
The Monkey Forest
The major and ancient Temples of Ubud, and the Museums
Local White-Water Rafting
Famous Ubud walk tracks
Specialist shops in Ubud area
Guest Services
Laundry and dry cleaning & pressing
Quick taxi service
Shop
Boutique
Reliable Balinese minders for children, while you have a romantic dinner in the Restaurant
International facsimile and telephone service
Complementary airport transfer
Preferential bookings for performance & white-water rafting
Local Information Service on cultural activities
Qualified Doctors for house visit
Authentic Balinese massage
Car rental tour and all Travel requirement
All major International credit cards accepted
A striking innovation in Balinese accommodation, in addition to the luxurious settings, is the presence of a unique and intimate "plunge" outdoor garden pool in ten of the Villas, designed for the frequent cool immersion that enhances the golden suntan for which Bali is famous.
Indulge yourself in the luxurious Natural beauty of the Ubud foothills
The ambience created of Bali from earlier days is a striking achievement of the architect, who is a member of the Royal Family of the Ubud Palace. The standard of workmanship, in carving, thatching, wood carving and stone befits that of only the most ancient and powerful Balnese Palaces. It also has elegance, modern conveniences and luxury expected by the international travellers.