Tjampuhan Hotel Spa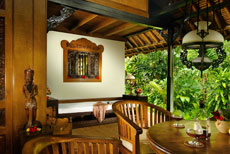 Experience the simple pleasure of Ubud life at one of Bali's most important artistic landmarks, set into the natural beauty of two river valleys where centuries ago the holy man Rçi Markandya was inspired to complete the building of the Mother Temple, Besakih.
Built in 1928 for guests of the Prince of Ubud, the Hotel Tjampuhan came to prominence in 1934 when it became the starting point for Pita Maha, an artists' association founded by Tjokorda Gde Agung Sukawati and the noted Western artists Walter Spies and Rudolf Bonnet.
Pita Maha, which translates as "Great Shining", became the artistic force which fostered and promoted the talents of such Bali greats as I Gusti Nyoman Lempad, Made Poleng, Gusti Ketut Kobot and Gusti Made Deblog.
Location
Located at a bank of the holy Tjampuhan river, the traditional village arts and culture Ubud, 45 minutes from a capital city Denpasar, Ngurah Rai Airport. Hotel Tjampuhan is set in a lush tropical Bali garden and river view. 67 pleasant cottages overlooking the picturesque Ubud valley, only a short stroll from the Ubud, monkey forest, the Puri Lukisan Museum of Balinese Art, the former king's palace and traditional former market.